Tottenham Returns to Sputtering
Tottenham has made some strides forward in the post AVB age but they are still a middle tier club bereft of Gareth Bale.
Against Norwich they failed to score and for the lion share of the ninety minutes had difficulty putting passes together. In the latter part of the second half, Tottenham looked more threatening and then the not so new coach, Tim Sherwood, substituted Soldado for Paulinho. Soldado needs a Turkish bath as he was poised to score twice and as he has done all season "bushed" both chances.
Norwich did not play like a team hovering around the relegation zone. They kept a clear sheet and have not given up any goals since the beginning of the year on home turf. Norwich desperately needed a win to stay out of the relegation zone.
Liverpool vs Swansea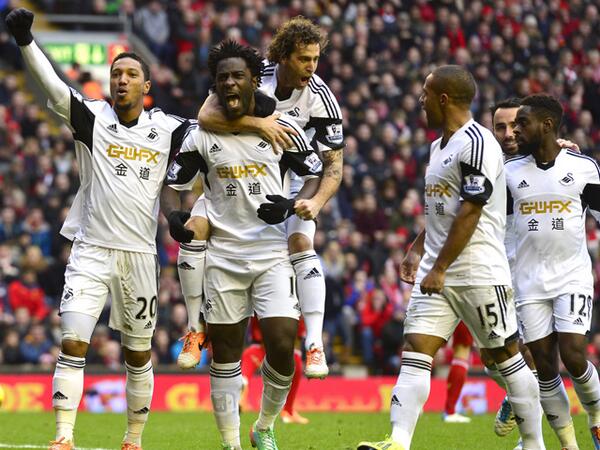 Swansea seemed to have gotten a second wind as the season is winding down. Bony is energizing as a busy, competent striker. Shelvey was substituted for precautionary reasons after the first half. Against his old club, he was the busy bee in mid-field and topped it off by scoring a marvelous goal.
The Liverpool scoring machine produced out an early goal but they were being outplayed in the middle of the pitch. Every time Liverpool forged ahead as the 4-3 final score illustrates, Swansea would not swoon over and kept fighting back.
Brendan Rogers made a curious substitution in the second half. He substituted Agger and replaced him with Kolo Toure. There is some confusion in the Liverpool backline. Skrtel is a brick in defense but he tends to hold opposing forwards on corner kicks and panics on occasion. In a panic attack, Skrtel made an injudicious tackle that resulted in a penalty shortly after the second half got underway.
The Liverpool offense prevailed as Henderson and Sturridge both scored a brace each. Liverpool emerged triumphantly but Rogers will not be shouting from the roof.
Chelsea vs Everton
Soldado needs a Turkish bath but Mourinho seems inundated with a lucky charm. The Chelsea vs Everton game was 0-0 at the end of 90 minutes. Ramires showed his worth by bringing some spark in mid-field and in injury time, picking up a ball and dribble through the Everton defense and was fouled at the edge of the box. Lampard took the free kick and John Terry scored to give Chelsea three coveted points.
Chelsea is at the head of the Barclay's table and has an excellent shot at winning the title. The sad thing is that although Chelsea has "true grit", they do not play the beautiful game. Everton, Liverpool, Manchester City and Arsenal exemplify the beautiful game. Even Swansea looks more esthetically appealing than Chelsea. Fortunately or unfortunately, sometimes King Kong gets the beautiful girl. The Champion's League
Champions League
Manchester City was not afraid to match Barcelona toe to toe. The sending off of Manchester City's central defender made the encounter lopsided.
Similarly in Arsenal's encounter with Bayern Munich, the red card given to Szczesny put Arsenal behind the eighth ball. Both EPL teams playing at home are behind 0-2 and must play the second leg on alien turf. FIFA needs to revisit the rule for a breakaway. If a penalty is awarded that should suffice but to issue a red card, give a penalty and have the team struggle with one man down is not cricket and it might also not be football.
Ball Harambee By Bagga Wilks