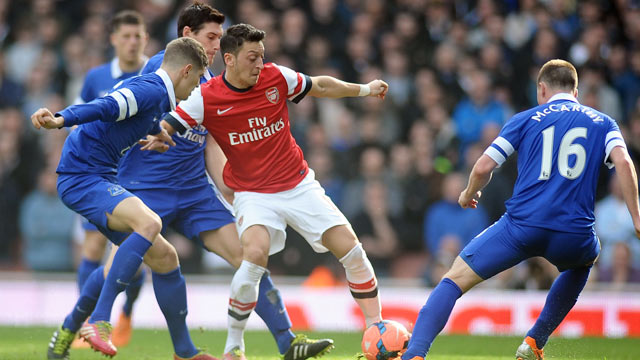 Coming back from international friendlies, the top players have seldom recuperated from representing respective national teams. Nonetheless, the F.A. Cup quarter final of Arsenal playing against Everton produced a highly competitive game.
It was an even tug-of-war at the end of the first half with the score tied 1-1. Ozil seemed resuscitated and scored in the sixth minute. Lukaku, on loan from Chelsea, scored for Everton.
Brazil had not fared too well in the World Cup in Germany in 2006 and worse the World Cup in South Africa in 2010. Playing at home in 2014, they are favorites to win their sixth World Cup. Brazil last beat the World in 2002 and the question is the 2014 team better than the 2002 World Cup team?
Playing against the South African national squad in the March 5, 2014 friendly, South Africa failed to test the Scolari squad. Brazil won 5-0 with Neymar scoring a hat-trick and the newly called-up Fernandinho scored from way outside the penalty box.
The 2002 squad had Dida in goal, Cafu and Roberto Carlos as wing backs, Lucio and Rogue Junior were the central defenders.
Liverpool gave up ball possession to Southampton but their deadly counter-attacks gave them the coveted three points to leap above Arsenal and to sit in second place behind leaders Chelsea.
Rodgers opted to strengthen his mid-field so he left out Raheem Sterling and inserted Joe Allen. Liverpool was down to two Ss, Sturridge and Suarez, and not far into the first half, Suarez registered his twenty-fourth goal. Sturridge failed to score but whenever Liverpool went on the attack, both Suarez and Sturridge looked threatening.